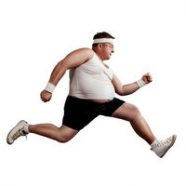 A Healthy Heart Needs a Normal Body Weight
In this week's Medscape advisor primary care news story, we're asking the question: Is "fat but fit" a myth? A new study challenges the idea of "healthy obesity."
An analysis of more than half a million people in Europe with 12 years of follow-up showed that compared with normal-weight individuals, overweight and obese patients had a higher risk for heart attacks, regardless of their metabolic health (lipids, glucose, and blood pressure).
The study also found that metabolically unhealthy persons are at a higher risk for heart disease regardless of their body weight. So, lean patients with risk factors still have an increased risk for heart disease.
This is robust evidence against the notion of healthy obesity, supporting the idea that maintaining a normal body weight is a key step toward maintaining a healthy heart.
 Dr Arefa Cassoobhoy, a practicing internist, and senior medical director for WebMD. Follow Dr Cassoobhoy on Twitter at @ArefaMD