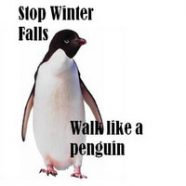 You don't see penguins slip & fall on ice.
Know why?
They walk flat footed
They take short steps
They walk with their arms at their sides (not in their pockets)
They concentrate on maintaining balance
Avoid slips, sprains and strains by watching out for snow-covered/black ice and uneven surfaces, checking your tread, practicing defensive walking and also walking like a penguin!
Do the penguin shuffle

University of Rochester Winter Walking Safety Tips
Environmental Health & Safety