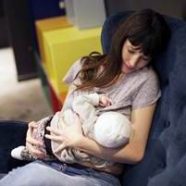 The 30-Year CARDIA Study
Question
Is the protective association between lactation duration and progression to diabetes supported by a biochemical evidence basis?
Findings
Among young white and black women in this observational 30-year study, increasing lactation duration was associated with a strong, graded 25% to 47% relative reduction in the incidence of diabetes even after accounting for prepregnancy biochemical measures, clinical and demographic risk factors, gestational diabetes, lifestyle behaviors, and weight gain that prior studies did not address.
Meaning
This study provides evidence to support the hypothesis that lactation may lower risk of diabetes in women; these findings open new avenues into mechanisms leading to glucose intolerance.
As reported in a study by Gunderson, Lewis, Lin; et al in the January 2017 Journal of the American Medical Association (JAMA).