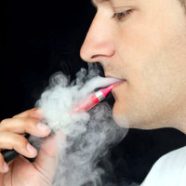 E-Cigarettes May Create More Smokers Than Quitters, Research Suggests.
Bloomberg News (3/14, Wolf) reports that researchers at Dartmouth College's Norris Cotton Cancer Center found that "vaping has led more people to start a real smoking habit, rather than avoid tobacco or quit in favor of e-cigarettes," according to a study published Wednesday in PLOS One.
The researchers used census data, published literature, and surveys to build a model which showed that while 2,070 cigarette smokers in the US quit in 2015 with the help of e-cigarettes, 168,000 adolescents who had never smoked began smoking after first trying e-cigarettes. The authors suggested that "fruity flavors" have created a draw for younger users, and recommended that "should be the focus of restriction efforts by the" FDA.
Also reporting is HealthDay (3/14, Preidt).