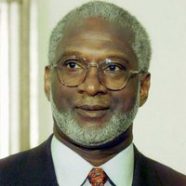 Keynote by David Satcher
The ninth annual Dr. David Satcher Community Health Improvement Awards and Special Grand Rounds features a keynote lecture by David Satcher '72M (Res), the 16th Surgeon General of the United States.
The event runs from noon to 1:30 p.m. Wednesday, April 25, at URMC in the Helen Wood Hall Auditorium (1W304), School of Nursing.
Register online. Free parking is available in the Saunders Research Building parking lot. Direct questions to Gail Hamilton at 224-3050 or by email. ASL interpreters will be available, and the event can be viewed live online.